Homemade Marshmallows (No Corn Syrup)
Lisa P.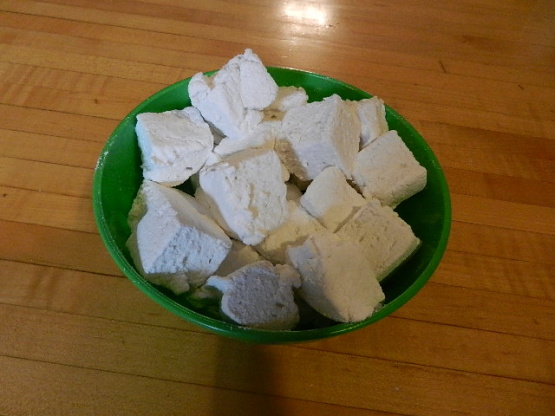 I don't remember where I came across this recipe. I'm collecting corn syrup-free recipes (my daughter can't tolerate it) and this is one of the first marshmallow recipes I found.

Incredible recipe! I've always been intrigued by the thought of making homemade marshmallows, but was too intimidated to try. So, when a pregnant friend said the same thing (and she presumably also had an intense craving for them), I found this recipe and decided to give it a try. I was SO thrilled to finally find a marshmallow recipe that didn't call for corn syrup or candy thermometers, and this one was BEYOND EASY. Even my toddler helped make them, and let me say, they turned out absolutely perfect! I rolled half of them in plain powdered sugar, and the other half in a mixture of sugar and cocoa powder. Thank you, thank you, thank you!
Dust an 8- or 9-inch square pan with powdered sugar. Set aside.
In a small bowl, soak gelatin in 8 tbsp cold water. Set aside.
Combine granulated sugar and 1/2 cup of water in a large heavy saucepan.
Cook and stir over medium heat until dissolved.
Add gelatin and bring to a boil.
Remove from heat. Pour into a large mixing bowl and let stand until partially cool.
Add salt and vanilla extract.
Beat with an electric mixer until soft and double in volume. About 10-15 minutes.
Pour into prepared pan to about 1/2 inch thick.
Set to cool until it will not stick to your finger.
Cut into 1.5 inch pieces and roll in powdered sugar.
Variation: toasted coconut can be substituted for powdered sugar.
Variation: other flavorings can be substituted for vanilla extract.