Bobbin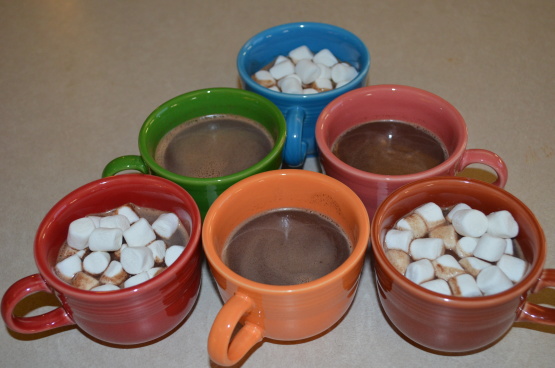 Good for the cold mornings. Make sure you use a heavy pan. If you use a light one you may burn your chocolate. The heavier the pan the longer it will take.

Top Review by Bobbin
Great recipe and so easy. The flavor was so much more flavorful and richer than the store bought packets. I used 1.5 ounces semi-sweet chocolate chips and 1.5 ounces Andes chocolate mint pieces. Because I was going for a minty taste, I omitted the cinnamon. This was fantastic. Can't wait to try it again with the cinnamon.
Combine the chocolate,sugar,cinnamon and a 1/2 cup of the milk in a small but heavy sauce pan.
Whisk constantly over a medium-low heat until the chocolate mixture melts and forms a smooth paste.
Add the remaining milk and whisk until warmed through.
Serve immediately.