Homemade Herbed Chevre Spread With Grilled Crostini
alligirl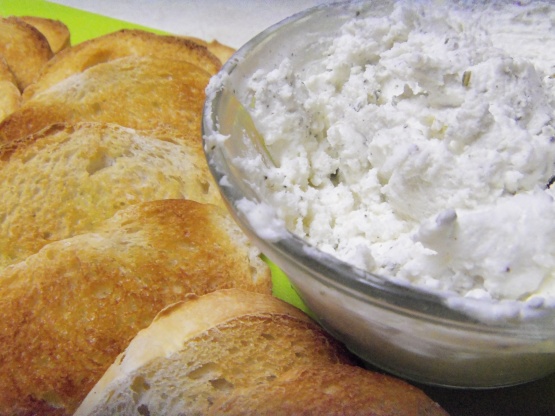 From "Flavours" Summer 2006

Yum, yum, yum! I reduced the recipe by about 2/3; my 4 oz. (113 ml.) goat cheese, with added ingredients is perfect for 4 people, as an appy! It was late when fixing, so I just used the toaster oven for the crostini; I will try this with the crostini, as directed, soon! I added approx. 1/2 tsp. of herbes de provence, as my 'herb' addition. I'm throwing this into my "Best of...." cookbook! That says aLOT! Thanks for sharing, keeney!
HERBED CHREVE SPREAD.
Using a wooden spoon, break up cheese in a mixing bowl. Slowly stir in heavy cream, mixing well between additions. When smooth, add remaining ingredients, stirring well. Scoop into a serving crock, sprinkle with additional herbs and serve with crostini, whole-wheat pitas or crackers. Covered and refrigerated, this cheese spread mellows and keeps well for several days. Makes 2 cups.
CROSTINI.
Cut a couple of baguettes (preferably day-old) into 1/4" slices. Fill a small pot with olive oil and set over medium-low heat. When warmed, add garlic; turn off heat and let sit for 10 minutes. Drain oil into a small bowl, discarding garlic. Brush garlic oil on one side of baguette slices. Grill oiled side of baguette slices on a BBQ until lightly charred. Serve warm with cheese spread.