alligirl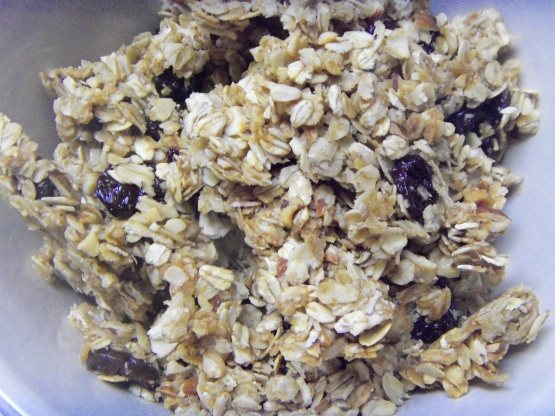 I got tired of buying granola that never stayed fresh! I went in search of a good recipe and practiced until I got something I really liked! So yummy in muffins and with yogurt.

This was really good! I've never made granola before, and I think I will be using this recipe again! I did skip the coconut, out of personal preference, and used walnuts in place of pecans, as they were on hand. When boiling the sugar, oil and honey together, I couldn't make the oil incorporate, for the life of me. I just knew that it wasn't going to work. I was pleasantly surprised! I used a sil-pat sheet and did stir it at around 15 minutes, before pressing it flat. I was hoping for some crunchiness. I GOT some crunchiness, and lots of flavor and I'm just a little impressed with myself! ;-) But especially you kittycatmom, who persevered in your quest! I think you could throw your faves in, i.e. sunflower seeds, dried banana chips or whatever, and the basics of this recipe would hold true! Thanks so much for sharing!
Preheat oven to 325 degrees. Lightly coat a rimmed baking sheet with cooking spray. In a large bowl, stir together oats, almonds, pecans, cherries, coconut, cinnamon, and salt. Set aside.
In a small saucepan, combine oil, honey, and sugar. Bring to a boil and remove from heat. Stir in vanilla. Drizzle syrup over oat mixture; toss with a wooden spoon. Pour granola onto sheet pan and spread evenly. Bake, stirring occasionally, until golden (about 25 minutes). Let granola cool completely on a wire rack. Break it into chunks and store in an airtight container.