SharonChen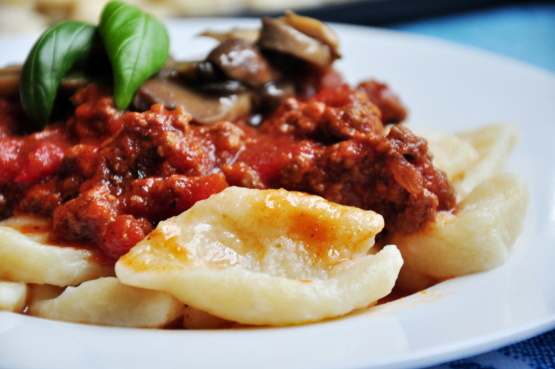 I have not tried this recipe yet, but I intend to soon. According to the article, that came with the recipe in this morning's local newspaper, these gnocchi are light as a feather. The recipe comes from a former fine dining establishment in our area that we used to go to very often and the food was outstanding! I am guessing at the prep and cook times.

Top Review by cylee
OK - I'd LOVE to give this 4 1/2 stars, but RZ wouldn't let me... This recipe is ALMOST perfect! One thing you must remember when making this is that you DO NOT want it to get "dough-like" . Be careful not to add too much flour, let the dough be sticky (yes, you'll get some on your hands!).. That seems to be the only secret to make these absolutely perfect! My first batch was a bit too floury... second batch... perfect! Also feel free to sub leftover mashed 'taters from dinner for the potato portion.... Thanks, Marie, this was WONDEFUL.. and made a FANTASTIC dinner with a nice simple browned-butter sage/garlic sauce!!! Oh, Heck... I'll give it FIVE stars... After all, the ingredients and instructions were pretty much foolproof!
Boil potato and mash.
Combine potato with eggs and salt and whip until fluffy.
Add ricotta cheese, butter, Romano cheese and flour.
Knead until smooth.
Shape into 1/2" rolls and cut into 1" lengths.
Make impression with thumb in each piece, then lightly dust with flour.
Drop into boiling salted water and cook only until they rise to the surface.
Drain and serve with tomato sauce and grated cheese.
Note: Before cooking, gnocchi may be flash frozen on a cookie sheet, then place in plastic bag in freezer.