Homemade Garlic Breadsticks
David04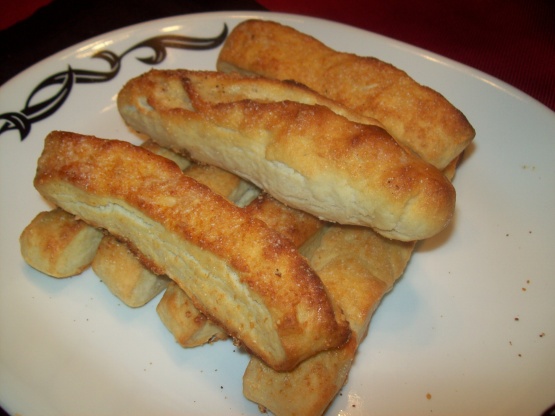 This is a quick and very delicious way to make breadsticks. You can also mix in onions and herbs to give it more flare, but I like them this way. You can also get creative and roll out 24 individual strings of dough and twist two together at a time to make garlic twists.

Followed this recipe to a T. Along with Amy B., these were flat and crispy. I still ate them because I hate to waste food, I mean they were at least edible.
Combine flour, Splenda, baking powder, salt, ½ tsp garlic powder and gradually add milk to form the soft dough.
Flour a flat surface and knead the dough gently 4-5 times.
Roll with a rolling pin into a rectangle about 10″ x 5″ and cut into 12 breadsticks.
Mix melted butter with the remaining garlic powder and parmesan cheese in a large bowl or dish and dip the breadsticks and coat well with the butter mixture.
Sprinkle with more grated parmesan if you like.
Bake at 450°F for 15 minutes.
Remove and brush on with any remaining butter.