awalde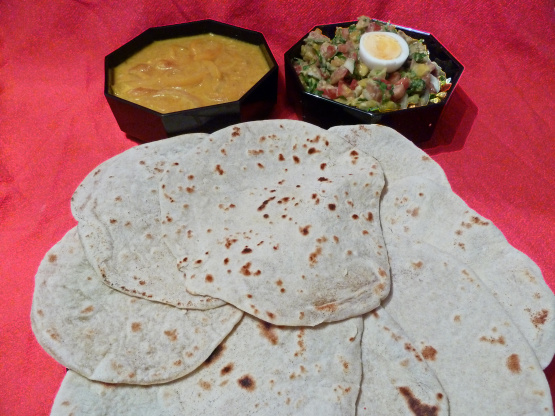 I found this in my TOH magazine. This is different from all of the other 5 recipes posted here as it does not use shortening or baking powder. It was fun making these on our own last summer and I look forward to doing it again now that I remember where the recipe was found. Hope it works out for you too. These came out great for me. Exactly what I was looking for. This is the very first time I've made any kind of flatbread, and it's only the third time I've made any kind of bread. Getting the dough nice and flat was key for me. I used one of those dowel-shaped rolling pins for that. I changed one thing from the recipe: Instead of spraying my pan, I drizzled a few drops of olive oil on it between each tortilla. (I found that keeping the pan a bit oily maintained that satisfying sizzle and made them brown more nicely, but I don't like to use any kind of spray with the burner on.) Thank you HokiesMom, for this great, easy-to-follow recipe! Making these was a big kitchen confidence booster for me!
In a large bowl, combine the flour and salt. Stir in the water and oil.
Turn dough onto a floured surface and knead 5-6 times.
Divide dough into 8 equal portions. On the floured surface roll each portion into a 7-inch disk.
In a large non-stick skillet coated with cooking spray cook tortillas over medium heat for 1 minute on each side or until lightly browned. Keep warm while cooking the others.