breezermom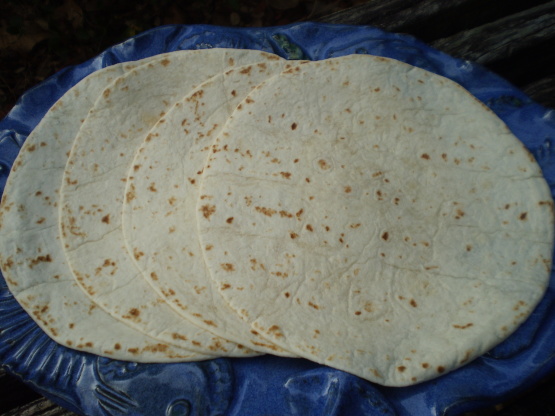 Great basic tortilla recipe!

I made these, for the first time about half an hour ago and they are very good. I did add some tex-mex spices
to the dough, because I find plain tortillas bland. I added 1/2 tsp. ground cumin, 1/4 tsp. chille powder and about 1/2 tsp. Fiesta Lime spice mix. I was amazed at how east this dough is to work with. The only problem I had was moving the rolled dough to the frying pan. Maybe my hands are just small:)
Combine the 3 cups flour, salt and baking powder in large bowl.
Either by hand, or with pastry blender, work in the shortening until crumbly (you can add a little more shortening if the mixture looks too floury).
Slowly add the water (I start with 1 cup and add more as needed) to flour mixture while tossing with a fork.
With your hands, knead dough vigorously for about 2 minutes, until it forms a nice dough ball.
Cover with cloth and let stand at least 15 minutes.
Take a ball of dough (golf ball size for small, slightly more for bigger tortillas) and roll into a ball.
Roll in flour to cover.
On floured surface, roll out dough evenly and very thin.
Place each tortilla on a medium hot cast iron skillet.
Cook for about 1-2 minutes on each side, or until the tortilla no longer looks doughy.
NOTE: the ingredients are fairly accurate, but feel free to adjust to get the correct consistency.