Homemade Finger Lickin' Kabobs
Lvs2Cook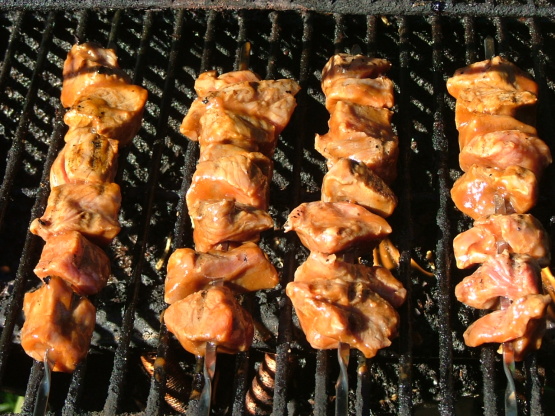 When searching to see if this recipe is posted i couldn't believe how many other recipes call for "premade" dressings. Don't let these few ingredients surprise you. This recipe uses basic ingredients found in most homes and the result is "finger lickin" good kabobs! I asked my mom for this recipe because they tasted so good and no doubt lots of people will be asking you for it too. (You can use this with beef, chicken/veggies).

I made these for dinner tonight ~ easy to make. I am a little leary of adding a hot sauce to meat to marinate it so I mixed all the marinade ingredients together and marinated the meat for most of the day in the fridge. DH really liked them. I thought they were good but it seemed like there was a little too much Worcestershire sauce in the marinade. The next time I make them, I will not add as much. Thank you for posting!
Skewer your kabobs-using chicken, beef, veggies of choice.
Put all the ingredients in a saucepan.
Over medium heat, bring to a boil.
Pour over top of your kabobs.
Marinate in the fridge (a couple of hours is ideal).