loof751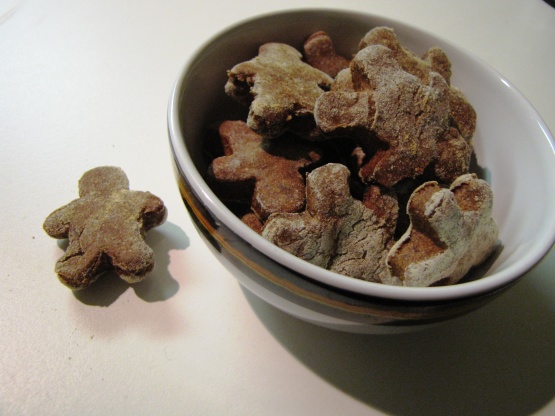 I was looking for a recipe to make biscuits for my dog and combined a few ideas to come up with this one. My dog is a big fan, hope yours is too.

I had to use gluten free flour, as we are GF. So it came out a little more sticky. I dropped tablespoon sized balls on the sheet and pressed down with the bottom of a cornmeal dusted cup. They came out looking nasty and smelling funny, but my dog loves them. It just seems like a really long time to have the oven on (at that temp.) Reviewed for Fav's of 2009 Tag.
Preheat oven to 325°F.
Mix together all dry ingredients in a medium size bowl.
Mix together all wet ingredeints in a small bowl.
Mix the wet ingredients into the dry ingredients. Batter should feel like biscuit dough.
Turn out onto a lightly floured surface and knead 4-6 times. Roll out to 1/2" thick.
Cut into biscuit shapes, or your favorite dog shapes.
Bake at 325F for 2 hours. Allow to cool in the oven so they harden (can allow to stay in oven overnight).
Store in an airtight container.
Woof! Woof!