Homemade Deep Dish Sausage Pizza
Prep 15 mins
Cook 25 mins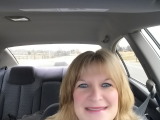 This came out of Quick Cooking Magazine. It is delicious. It is new to our family but will be a much repeated recipe. Kids love it too. :)
Directions
On a lightly floured surface, roll and stretch dough into a 9 inch circle.
Cover with plastic wrap; let rest for 10 minutes.
Roll and stretch the dough into a 12 in circle.
Sprinkle corn meal into a greased 9 inch springform pan.
Place dough in pan and press 1 inch up the sides of pan.
Spread pizza sauce over crust.
Top with sausage, 1 cup cheese, oregano and green pepper.
Sprinkle with remaining cheese.
Bake at 425 degrees for 20-25 minutes or until crust is golden brown.
Remove to a wire rack; let stand for 5 minutes before removing sides of pan.
Most Helpful
I made this using leftover sauce from Recipe #221838, topped with yellow bell peppers, oregano, parsley and garlic powder. Making on a cookie sheet pan. Very Good Thanks!!

This has become my standard "I am too lazy to cook" meal. I love how the cornmeal gives the crust a nice nutty crunch. This recipe is so flexible! I have used pepperoni, sausage, hamburger..I even once used SteakUms from the freezer section with onions, mushrooms and peppers for a Philly Cheesteak Pizza!! WOW!
Great idea! And I liked the authenticity that the corn meal gave it. It was very tasty, with a nice thick crust. But since I'm not an Italian sausage person, I minced some pepperoni instead.