Jostlori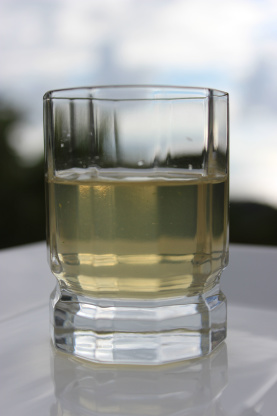 I was making all kinds of liquers last summer for Christmas gifts and stumbled across this recipe, but I don't remember where I found it. Very yummy- make sure you use a high-quality vodka for a really smooth finish(I found Seagram's Silver to be good quality for a great price). The lower-grade vodkas tend to give it too much of a bite. T

Very good! It's easy to make, and although it tasted great as written, I did add some torn mint leaves to the mix and let it steep for 12 hours then strained back into the bottle. I think this gives it a fresher taste, but I won't know for a month! I must admit, I did make a cocktail with it around the 18 hour mark, and it was already good! Can't wait to see what it tastes like in a few weeks! I did not add food coloring, so it's a light greenish-yellow. Made for My 3 Chefs 2013.
Boil sugar and water together.
Let cool.
Combine all other ingredients in a large pitcher.
Add sugar syrup, stirring to combine, and pour into clean sterilized bottles for storage.
Age for a month.