Homemade Cream of Style Soup Mix - Substitute
Sageca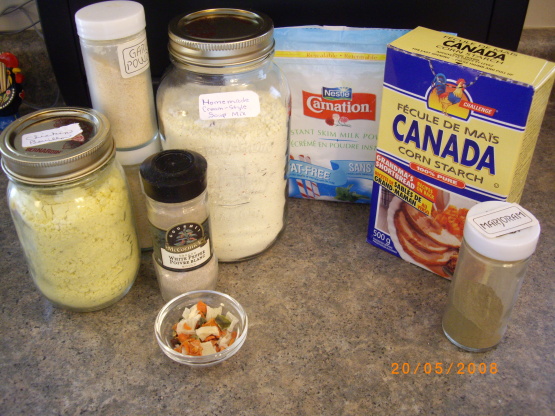 I found this in one of the magazines I subscribe to, Cooking for Two. There are several other mixes like this here at Zaar, but this one has several other ingredients and is much more and I like it. The variations are posted below.

Wonderful! Here's how I adjusted it. I prefer not to use powdered milk as it is a source of glutamate (MSG), which my husband and one son are sensitive to. So, I left that out, and replaced the instant mashed potatoes with the same measurement of freshly ground whole wheat flour. I store the mix in the freezer to ensure the flour doesn't go rancid. When preparing, use half water and half milk for the liquid, or even all milk for a richer taste. I also add a couple of Tbsps of butter to the liquid and prepare it on the stovetop rather than in the microwave.
Combine all ingredients in an airtight container. Store in a cool dry place for up to a year.
To use: for one can condensed cream of chicken soup, heat 1 1/3 cups water and 6 tablespoons of mix in a microwave safe bowl. Heat on high for 3-5 minutes or until thick and bubbly whisking occasionally.
For mushroom soup, add 1/2 to 1 cup sautéed sliced mushrooms.
For celery soup, add 1 sautéed chopped celery rib or 1/4 teaspoons celery salt.
For 1/2 a can, divide measurements in half. This comes in handy when making half a recipe.