Homemade Cream of Mushroom Soup
PaulaG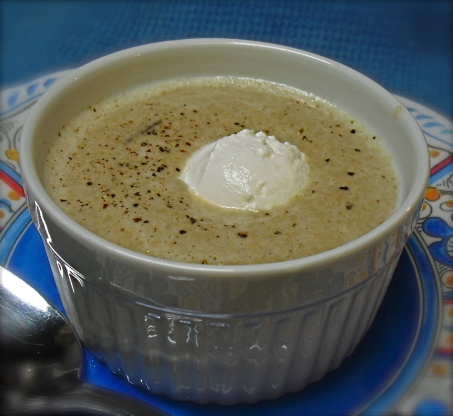 Top Review by PaulaG
This was made for PAC Fall 2012. The mushrooms were sliced, sauteed until brown and placed in a small dish while the onions browned. A quarter cup of mushrooms were held out and the remaining mushrooms returned to the pan along with the flour and seasonings and then sprinkled with the flour. Once the flour was incorporated and lightly browned the liquid was added. I did use part cream and part chicken stock. Probably about an extra 1/2 cup. The soup was served with a dollop of Greek yogurt instead of the sour cream. While the flavor was very good topping it with the yogurt put it over the top. Thank you for sharing your recipe.
Saute 3/4 cup of the mushroom, seasonings and the onion in a medium saucepan on medium high heat until browned and soft (about 5-10 minutes). Add flour and butter to this mixture until the flour is lightly browned (about 5 minutes).
Meanwhile, saute the rest of the mushrooms in a separate pan until browned.
Add one addition of the half and half to the onion and mushroom mixture and stir until thick, add the rest. Pour mixture into a blender and blend until smooth.
Place the mixture back on the stove and add the rest of the mushrooms. Serve with sour cream.