Homemade Corn Tortilla Chips, Easy Cheap Mexican Snack Food
Debbwl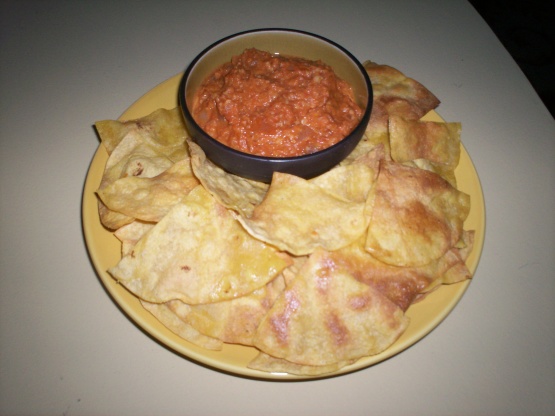 Corn tortillas (used in making Oaxaca-style quesadillas) are available at international and Latin grocery stores, and if you live in a large Latin-American community like I do then you can find corn tortillas in bags of 20-30 for like $2 or less at major grocery stores. Flour tortillas probably won't work as well for this and definitely won't have the corn flavor and base. Never spend money on premade again! You can also control how large or small you want to make them (and keep them seasoned or not) not to mention salt content if you're watching sodium intake. 32 chips is all I could fit on my convection oven's cookie sheet so feel free to use more tortillas; the methodology is all the same. You won't believe how easy it is to get restaurant-style tortilla chips without any icky unnatural ingredients!

These were good and reminded me a lot of the warm chips that you get at a Mexican restaurant. I did have a problem with them, but it was my own fault ~ I baked them too long as I forgot to set the timer. Will definitely try these again and make sure that I set the timer! I think these would also be good with a squeeze of lime on them while still warm. Thanks for posting this. Made for New Kid on the Block Tag.
8

corn tortillas (assuming they're the small ones that have about a 6-inch diameter)
1⁄4 cup olive oil (Corn oil works great, so does canola oil. This is an estimate, I think I had a little left over last)

1

teaspoon kosher salt, for sprinkling (table salt works too but coarse kosher works far better. Sea salt is fab as well)
Cover a cookie sheet in foil, and with a pastry or BBQ brush, brush with olive or corn oil and a small sprinkling of kosher salt. (You have to do this or else it won't come out right.).
Preheat the oven to 400 degrees-- make sure the oven rack is in the center.
Cut each tortilla into 4 equal wedge pieces.
Brush the pieces with olive/corn oil and lightly sprinkle with the kosher salt.
Bake for 6-10 minutes until the edges curl, depending on oven strength. Higher altitudes may need to cook for 15 minutes or longer.
Let cool for 5-10 minutes prior to eating.
Voila, you have natural yummy corn chips without unhealthy preservatives, hydrogenated oils, and whatnot. Serve with your favorite Mexican meal or snack food, a good salsa, or just eat plain. For some variation ideas: Soak in guacamole to make guac chips, brush tomatillo sauce or salsa on to have baked-on salsa, make spicy chips with my all-purpose Mexican seasoning, the possibilities are endless.