2Bleu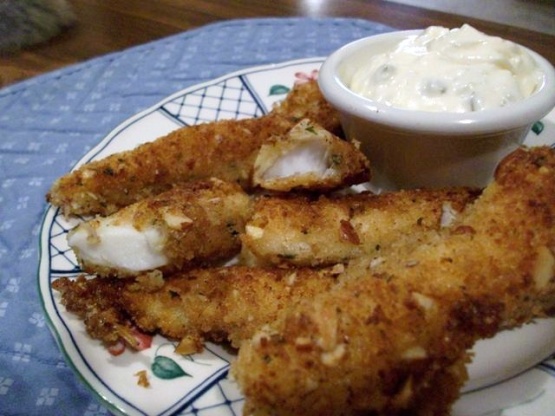 You can do as fillets, but kids love fish sticks. Either way they taste great!
The family loved the fish! I've never made fish sticks before, but it was easy and super yummy! Now I can enjoy fish sticks again (I won't eat the store bought they are too fishy and yucky). Thank you for a great recipe!!
PREP: Cut fillets into 1/2-inch strips and season with salt, pepper and cayenne. Set aside. Place flour in shallow pan, set aside. Place eggwash into another shallow pan and set that aside. Mix breadcrumbs (or panko) and optional almonds and place into yet another shallow pan.
Dredge strips of cod in flour shaking off excess. Dip next in eggwash and then in the bread crumb mixture, pressing down lightly into breading to coat. Set coated fish on waxed paper-lined sheet pan.
In a large skillet heat butter and oil over moderate heat. Carefully add the coated fish strips and cook about 2-4 minutes per side, until golden brown. Do in batches if necessary. Transfer fish strips to paper towels to drain.