Homemade Cinnamon Bubble Bread
dodger75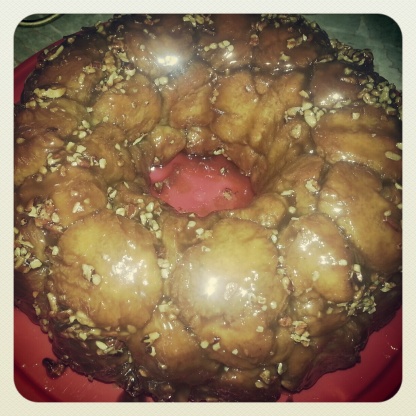 We (my Grandmother and I) used to make this every year for christmas along with other bread and rolls it's fun to both make and eat the recipe is origionally called Golden Bubble Ring and is from a very old and tattered Better Homes and Gardens Cook Book some parts have been made better (by my Grandmother) and prep time includes rising time

I used this recipe for a Christmas party last night and it was a huge hit!
I posted the picture. I add a homemade caramel glaze and pecans. Just use brown sugar and butter. For every cup of sugar add one stick butter. For this recipe I used 2 cups brown sugar. Nuts added to taste.
soften yeast in warm water according to directions on package.
in a medium saucepan melt the shortening then add milk 1/2 cup sugar 2 tsp cinnamon and salt and scald( cook untill just boiling) then take off and move to mixing bowl.
add 1 cup flour and beat well add eggs beat to mix in add 1 cup more flour and yeast mixture and beakt untill smooth.
add in remaining flour untill you cant mix any more then knead on lightly floured surface 8-10 minutes
place in greased bowl turning once to grease surface cover let rise until double the size (1-1 1/2 hours).
punch down and let rest for 10 minutes.
mix the remaining sugar and cinnamon.
shape dough into balls about 28 about golf ball sized
roll each dough ball in melted butter and then cinnamon sugar.
and place in greased bundt pan cover and let rise til double (about an hour).
bake in oven at 350 for 35-40 minutes.