loof751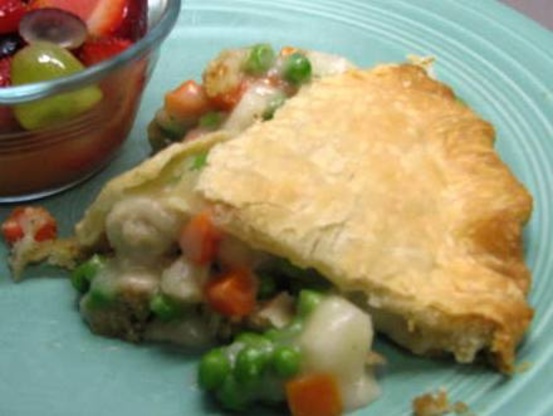 By far the best chicken pot pie I have ever tasted. This recipe is good but found using my pressure cooker saved me steps and time. You can cook onions in butter in the pressure cooker till transparent . Add the chicken quartered with the chicken broth. Cover and cook 10 minutes. Cool and allow the pressure to drop on its own. I removed the skin first. Strain . Remove the bones and you can cut up the larger pieces. Now place the chicken and vegetables in a large greased casserole dish or 13x9 pan . Add mutter to the pressure cooker, melt it and add the flour, wisking constantly. Once that has lightly browned add the broth wisking constantly time thickened. You may need to add extra water or broth so it is not too thick. Add salt and pepper to taste. Pour into the pan with the chicken and vegetables. Then cover with pie crust (a double amount so it fits the pan nicely and seal all round the edges. Cut sits and bake. This way saved me so much time and the flavour is amazing. My family loves it. This also allows you to experiment with different vegetables and add whatever amount you want. I love my pressure cooker!!
Get a small, whole chicken - a fryer is good.
Put the chicken in a large pot and cover with water. Bring to a boil, reduce heat to medium, cover and cook until the meat falls off the bones.
Take the chicken out of the pot and port the broth through a strainer into a big bowl. (You will use this to make your gravy.).
If you want potato and veggies in your pie, pre-cook them (except frozen veggies - just thaw them or they will be mushy).
Put a pie crust in a pie pan. Lay pieces of chicken on the crust (about 4c of chicken). Put the potatoes and any veggies on top of the chicken.
To make the gravy, melt the butter in a saucepan. Add flour and whisk until smooth. Slowly whisk in chicken broth. Cook over medium high heat until thickened, whisking frequently. Add salt and pepper to taste.
Pour gravy on top of the chicken and veggies. Put on the top crust and crimp the edges and cut a few small vents in the top of the crust.
Bake for 25-30 minutes in a preheated 425 degree oven, until the crust is golden brown.