LifeIsGood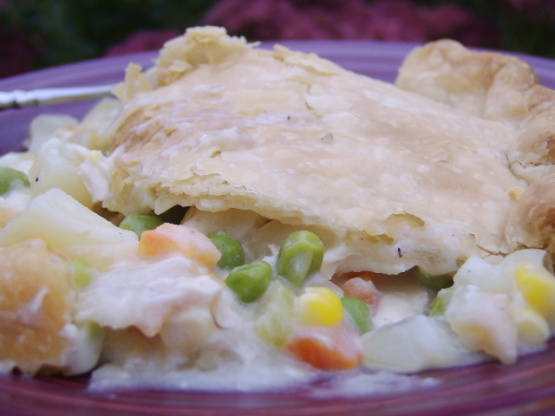 This recipe is a combination of a Southern Living Recipe and my Grandmother's recipe. I used short cuts when they worked and this is a recipe that my whole family loves. Even when older kids leave for college, they beg to take some of this with them! All ages love this and the house smells great! Great comfort food! Line your oven with foil paper; there is a lot of filling. Or you can divide it and make one pot pie for now and one for later!

Top Review by Rob79
Okay, so I've made this recipe about 4-5 times now and it's turned out great every single time. I was making it for dinner tonight when I realized that I only had skim milk in the fridge and no cream. I ended up using 2/3C of milk and 1/3C sour cream(!) mixed in with the stock. I will *never* make it any other way ever again, not only was the sauce a lot thicker, it's also lower in calories and adds the extra bit of flavour. Other than that the only other changes I've made to the recipe is to add a bit of parsley & thyme to the mix before putting it in under the crust and also using only a top crust and no bottom crust (again, to reduce the calories, like it should matter in a pot pie LOL). This is one of the best recipes (even without the changes) I've found on the 'zaar for chicken pot pie, they should just remove all the other ones now since this one can't be topped :).
354.88

ml potatoes, diced

236.59

ml onion, chopped

236.59

ml celery, chopped

453.59

g bag frozen mixed vegetables, thawed

118.29

ml all-purpose flour

2

(850.48 g) package refrigerated pie crusts (or use your favorite pie crust recipe!)

473.18

ml chicken broth

236.59

ml half-and-half

4.92

ml salt

1.23

ml pepper

946.36

ml cooked chicken, chopped
salt and pepper
Saute potatoes in margarine for 5 minutes in a Dutch oven.
Add onion, celery and thawed frozen vegetables.
Saute for another 10 minutes.
Add flour gradually to the sauteed mixture, stirring constantly for one minute.
Allow refrigerated pie crust to come to room temperature.
Meanwhile, combine chicken broth and half and half.
Gradually stir into the vegetable mixture.
Cook over medium heat, stirring constantly, until thickened and bubbly. Stir in salt and pepper.
Add chopped chicken, stirring well.
Add additional salt and pepper to taste.
Preheat oven to 400 degrees Fahrenheit.
Spray a 9 X 13 casserole with nonstick spray.
Place pie crust on the bottom of the pan to cover, cutting to fit.
Pour chicken/vegetable mixture over the pie crust.
Top with the remaining pie crust.
Cut vents in the top crust.
Bake for 40 minutes or until crust is golden brown.
Enjoy!