Homemade Chicken Noodle Soup
bexbusy3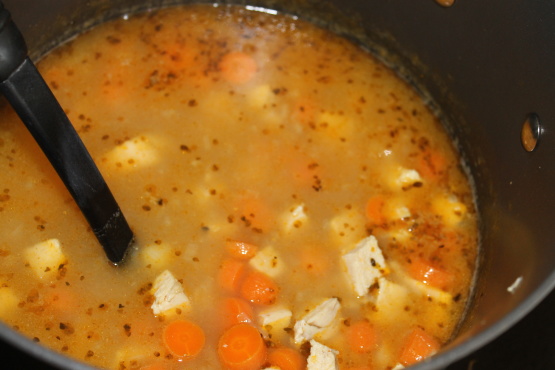 This is my mom's recipe and the ultimate comfort food for me if it's a gray fall day. It's also about a thousand times better the next day. (Reheat in a pan for best results.) If you're feeling adventurous, try adding cayenne pepper to make it a little spicy.
Add the broth to a large pot and bring to a boil. Add the chicken and boil until cooked, about 30 minutes.
Use a strainer to remove any fat or particles that rises to the top of the water.
Remove the chicken from the broth and set aside on a plate to cool a little before you will debone it.
Add the onion, celery, garlic pepper, crushed red pepper, cayenne, and parsley to the broth.
Separate the chicken meat from the skin and bone and place the meat back in the pot. Let it simmer in a gentle boil for about 30 minutes. By the time you add the noodles, all the veggies should be soft and translucent.
Add the noodles and boil until done, as per package instructions.
Enjoy!