Homemade Baked Yellow Eyed Beans
Annacia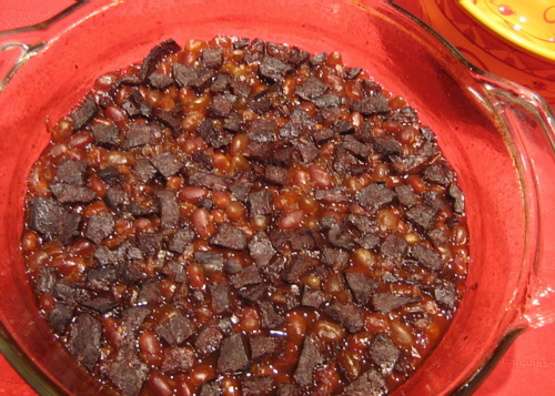 My husband loves yellow eyed beans. He believes that they make the best baked beans...I think he's right. You can substitute with your favourite bean...enjoy with warm oatmeal brown bread or fresh challah and sweet butter.

wow.. all I can say is these were DELICIOUS.... Everyone loved these, told me they were better then then grandmothers... I made this recipe exactly as directed except I put them in crock pot and left for the day.. They had a lot of liquid (delcious) soo next time I will use 3 cups less liquid.. soooo goooood Thank you
Wash the yellow eyed beans in cold water.
Rinse and soak in 12 cups of water overnight.
Preheat oven to 250 degrees Drain the beans and cover with 12 cups of fresh water.
Bring the water to a hard boil and simmer the beans, uncovered, until the skins split.
(when they are blown on) Drain and put beans in large casserole.
Hide the onion in the middle of the beans, buried down deep.
Mix all ingredients except for the bacon and pour over the yellow eyed beans and onion.
Mix the diced bacon into the bean mixture.
Add enough boiling water to cover the beans, adding more boiling water during cooking, if necessary to keep the beans from drying out.
Baked the covered beans in a 250 degree oven for 8 hours.
Remove the lid during the last 30 minutes of cooking.