Homemade Baked Tortilla Chips
teresas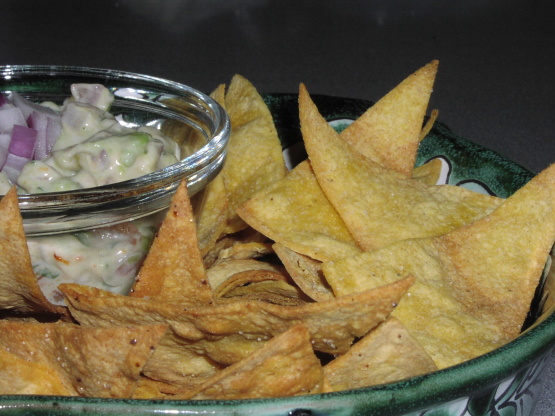 I saw this recipe and thought it could come in handy for the upcoming ZWT5. It gives me an idea of how to use up those odd tortillas I tend to have left over after buying a pack.

Made these for Let's Party 2011 tag game and it was soooo easy. I misted them with vegetable oil instead of brushing with oil and followed the instructions. Next time I think I will try seasoning them with garlic salt or another seasoning.
Preheat oven to 400 degrees.
Brush one side of each of the corn tortillas with a light layer of vegetable oil.
Cut the tortillas into 8 wedges or shapes as desired.
Place tortilla pieces on a single layer on a baking sheet.
Sprinkle with salt.
Bake 10 to 12 minutes or until lightly browned.