Homemade Baked Potato Chips
VickyJ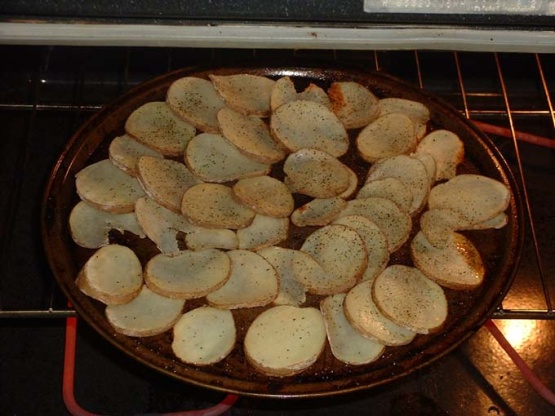 I made these saturday night for company, very big hit and Lf.

I love home baked chips! Here are a few tips for perfect crisp chips: <br/><br/>1) Soak the sliced potatoes anywhere from 5 minutes to overnight. This depends on how much time you have but one good rinse/soak is a must, you'll see the water turn cloudy-that's the excess starch! Excess excess starch is the main reason potatoes fail to crisp. <br/><br/>2) Remove excess water before baking. (I use my salad spinner but paper towels work fine.) <br/><br/>3) Use a higher temp for a shorter amount of time (400-450 for 10-15 minutes...be sure to check them until you know the right amount of time for your specific oven.) <br/><br/>4) If you have problems with chips browning evenly rotate your cooking tray/sheet and/or flip the chips halfway through your cook time. <br/><br/>5) You might also benefit from preheating your cooking tray/sheet 5 minutes. (I just put mine in while the oven is preheating and I'm chopping.) <br/><br/>Hope this helps. Snack on!
Preheat oven to 350 degrees.
Spray a baking sheet with non-stick cooking spray.
In a small bowl; mix cheese, salt and garlic.
Slice potatoes thinly and place in a layer on the baking sheet.
Sprinkle both sides with the cheese mixture.
Bake 10 to 13 minutes.