Homemade Baked Macaroni and Cheese
Shay R.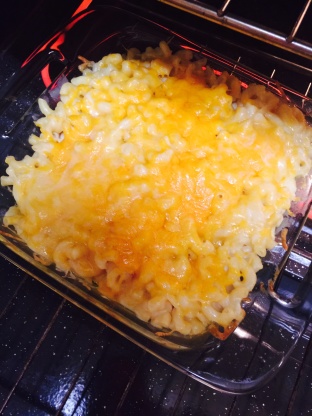 This is a very easy recipe that my mom used to make when i was growing up-you can change the types of cheese to add a different flavor too. I like it spicy !

I have my own baked mac and cheese recipe, but wanted to see how someone else's was, since I usually "eyeball." Doing so messes up my roux. Anyway, I used your recipe, adding some black pepper, garlic, paprika, and parsley. And because my family wants it rib-sticky, we doubled the cheese. I also turned the broiler on for the last 5 min. This was the best macaroni and cheese I have ever baked! Thanks for sharing!
Grease or spray with non-stick cooking spray a casserole dish.
Melt butter in medium saucepan.
When melted, add flour, stirring constantly for about 1 minute (until butter is absorbed).
Whisk in hot milk, cook for 3 minutes (stirring constantly).
Add 1 cup each of the cheeses, and stir until smooth.
Cook macaroni, drain, rinse under cold water, and drain again.
Combine everything together and pour into casserole dish.
Sprinkle the rest of the cheese on top, and bake at 400Ffor 20 minutes.