Homemade Baked Beans (In the Crock Pot)

A delicious dish you will be pleased to share with everyone.
Directions
Prepare the navy beans according to package.
Partially cook 12 strips bacon; pat dry and cut up into small pieces.
Combine in your crock pot ALL of the ingredients listed above.
Cook on low for 10 hours.
Serve hot or chill.
Most Helpful
I am giving this a 3 star for now since they are still cooking. I soaked the beans overnight cooked for an hour mixed all the ingredients and put in crockpot on high. They have been cooking for 8 hours now and are not fully cooked. Judging by when I use my oven to bake beans they have a least another 2 hours to go which would make the 10 hours but on high not low. If I had cooked them on low who knows how long they would take to be done. I have used my crockpot to cook rice pudding, lava cake, orange chicken and numerous other meals. Not sure why on high it is taking so long.
These are a "crock-of-beans".....NOT "baked" beans.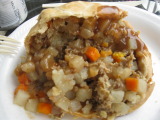 I'm making these again! I made them last Mothers Day and forgot to write a review. I didn't have dry mustard so I used prepared. The rest of the recipe I followed as is...everyone loved it. <br/><br/>My grandson came home from boot camp and we're having a get together... sooooo I'm bringing these. Great and easy recipe! Thanks for sharing!