Rainbowz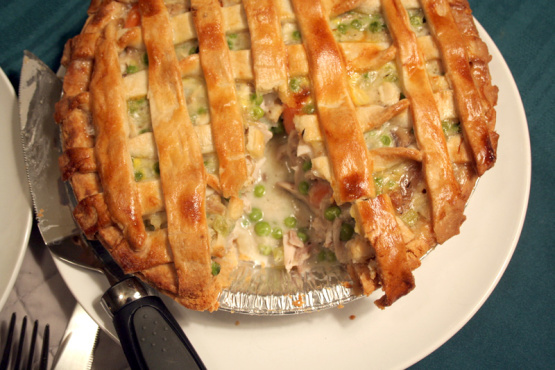 All will be blown away with the home style flavours of this savory chicken pie. Add your favourite vegetables for a complete nutritious meal! For some reason it will not let me include the important step of 3 sheets of frozen short crust pastry in the ingredients, so I am adding a note here!

Loved this recipe. The extra sheet of crust on the bottom is a great idea. I feared it would turn out gooey but was absolutely cooked perfect. The pie was even better the second day as leftovers. Next time I will try adding a few additional herbs but was scrumptious just as written. Made for PAC Spring 2011
Preheat oven to 200 C/400 F lijne base of a 25cm pie dish with 2 of the pastry sheets.
refrigerate for 30 minutes.
line with baking paper and fill with rice and blind bake for 10 minutes.
Place remaining pastry sheet on a lightly floured board, cut into 1/2 inch wide strips.
Meanwhile place chicken in a large saucepan; add water to cover, bring to boil 10 minutes or until cooked through.
drain and cool and shred chicken.
heat butter in frypan and add onion, cook 3 minutes stirring.
whisk in flour and thyme, cook stirring 3 minutes.
add stock and cream.
whisk until thickened, 3 - 4 minutes.
remove from the heat and stir in vegetables and shredded chicken, season.
spoon the filling into the prepared pasty shell.
arrange 6 pastry strips in the same direction onj top of the pie, twisting the pastry dough.
Arrange the remaining strips crosswise on the top.
fold the edges under and crimp to seal.
Beat egg yolk and water. Brush the pastry lightly with egg mixture.
Place pie on ojn a a baking sheet and cook until golden on top and bubbling inside, about 45 minutes.