CarolAT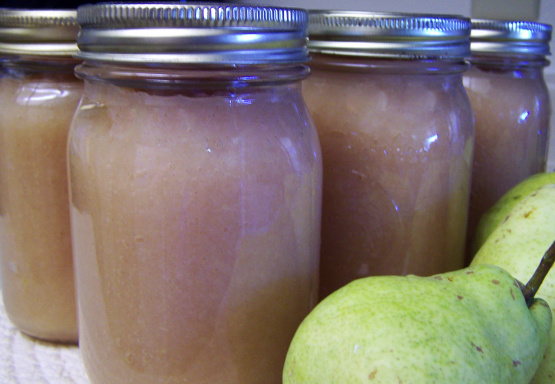 This pear sauce is fabulous!! I was using some sort of small pears off of my neighbor's pear tree, so I couldn't really tell if I was using the proper amount for the recipe. After cooking the pears I just added cinnamon and sugar to taste. I ended up with 5 quart size jars and three pint size jars. I love cinnamon, so I think I probably used a couple tablespoons, but only about 1/3 cup of sugar since the pears were very sweet on their own. I served some to a dinner guest and my kids over vanilla ice cream for dessert tonight and they all loved it. This is going to be my staple pear sauce recipe from now on.
Combine pears, water and lemon juice in a heavy bottomed 8-quart pan.
Bring to a boil, stirring often.
Reduce heat, cover and simmer until soft, stirring often (about 30 minutes).
Add sugar and cinnamon, bring to a boil.
If too chunky put it thru a food mill.
Fill prepared hot jars with hot sauce, leaving 1/2-inch headspace.
Gently run a narrow nonmetallic spatula between sauce and jars to release air bubbles.
Wipe rims clean; top with hot lids, then firmly screw on bands.
Process in boiling water bath for 15 minutes for pints, 20 minutes for quarts.
You may want to change the amount of sugar depending on your taste.