prjanson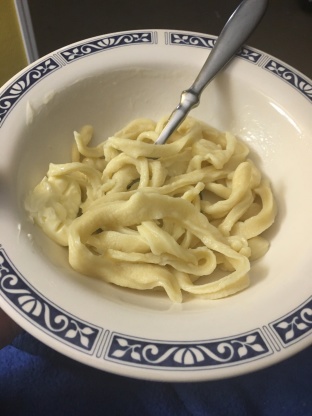 this is very easy!! i love making them because you can get your hands messy!i use a noodle roller that i got for a $1 at a garage sale! this would be fun to do w/ the kids, but if you are going to do it w/ the kids, i wold suggest using a bowl to get the ingredients mixed.
make a circular well with the flour.
crack all three eggs in the well and add oil.
scoop some of the flour from the walls on top of eggs and oil and gentaly mix flour into eggs and oil.
once the eggs have encorporated the flour mix with you hands until all in united.
if you can't get all of the flour mixxed in, add a teaspoons of water then knead it one or two more minute.
knead mixed dough 30 seconds or so the make it into three even balls.
flaten and cut to desired shape. make sure the noodles arent more then an 8th of an inch thick.
cook until the arent raw and eat plain or use raw in lasagna or other bakes dish!
9:enjoy!