Home Made Fried Rice, Chicken Optional
germuga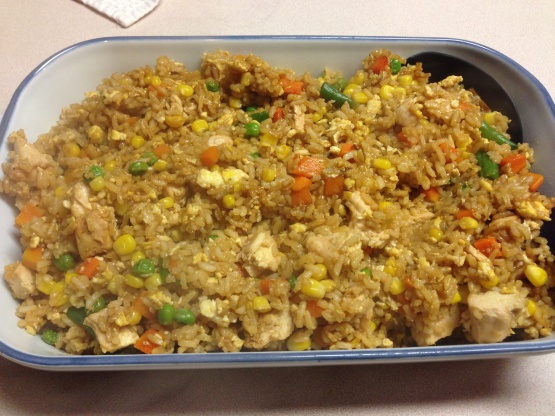 My kids and wife love going to hibachi dining, so much so it was putting a crunch on the old wallet. I challenged myself to come up with a fried rice that was not only a healthier alternative, but tasted great too.

Turned out very well! Thanks for the recipe!
1

lb cooked boneless skinless chicken breast

2

cups Minute Rice or 4 cups cooked rice

2

tablespoons olive oil (spray mist delivery is best)

3

eggs

1

(12 ounce) bag frozen mixed vegetables
1⁄4 cup soy sauce (to taste)

2

tablespoons teriyaki sauce

2

tablespoons butter-flavored cooking spray
1⁄4 teaspoon salt, to taste
1⁄4 teaspoon ground black pepper, to taste
Prepare chicken either grilled or baked separately ahead of time.
After starting chicken prepare minute rice per instructions on box.
When rice is done spray liberally with olive oil, while stirring with a fork. This will both fluff the rice and keep it from sticking together.
Place cooked rice with olive oil in the refrigerator for 30-40 minutes. This should be about the same time to finish cooking your chicken.
In a large non stick skillet over medium heat fry up eggs breaking yolks while frying, salt and pepper to taste. Eggs should be fried good and in small pieces.
Prepare vegetables separately steamer bags work nice 6 minutes in microwave, strain and set aside.
Take prepared chicken and cut up into bite sized pieces, set aside.
Take rice out of refrigerator and start adding slowly to skillet, you can spray with more olive oil while adding the rest to the skillet.
Stir in soy sauce, and teriyaki sauce and spray butter, while continuing to stir rice mixture. Let cook while stirring for 3-5 minutes.
Add strained vegetables to your rice, add chicken to your rice while continuing to stir for 3-5 minutes, black pepper to taste.
Before removing from skillet to put in serving dish, you may want to add some more soy sauce to taste.