Home Economics Class Pasta and Beef Strips
Pamela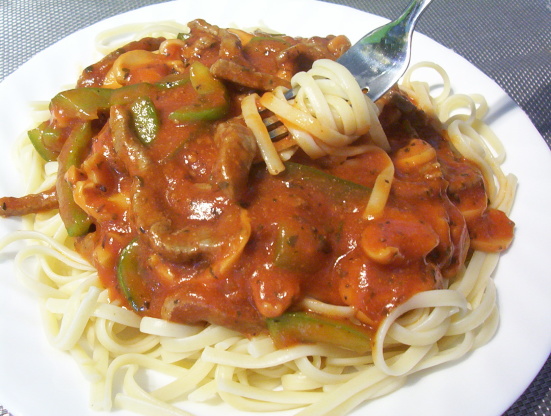 This recipe was from my Junior High Home Ec class. I can't believe my mom has saved the recipe sheet for so many years. However, I am glad because we are still enjoying this easy recipe. The original recipe calls for Penne pasta but we like this with a types of pasta.
Top Review by PaulaG
Nice comfort food. I used about 1 tsp of oil and instead of chopping the green pepper I cut it into strips. The onion I sliced and seperated into rings. Also, I decided to add a couple of fresh tomatoes, diced. Served it over the penne pasta. Thanks for posting this wonderful recipe.
In a large skillet or a wok, stir fry beef strips in hot oil over high heat for 2 minutes.
Add garlic, onion, and spices and cook for 2 minutes longer, until beef is no longer pink.
Drain and then return to pan.
Stir in tomatoes and simmer for 10 minutes.
Add mushrooms and green pepper and cook for 5 minutes.
Serve over cooked pasta and top with Parmesan cheese if desired.