Holy Guacamole! an Authentic Mexican Snack.
jenne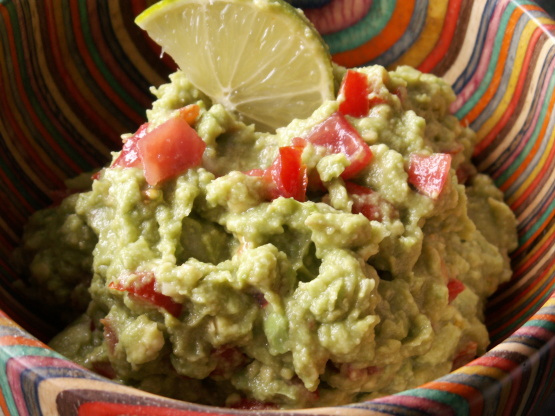 This was excellent I served this with your Recipe#286463 and Mandy's Recipe#403579. For an absolute hit at a gathering I had tonight every single dip got rave reviews. I added 2 red chilies as that is what I had on hand. This was delicous with just the right amount of spice. I have saved all recipes made, to make again as not only did I love them but with all the fab reviews I got they have got to go on a regular roster, especially when having to take something to gatherings what perfect dips. Huge thumbs up by all :)
In a bowl fork smash the avocado with the roasted garlic until you have reached the desired consistency. Add in the onion, lemon juice, parsley or cilantro, hot pepper (if using), tomato and salt. Mix well and taste. Cover tightly and refrigerate, you may need to stir before eating as the avocados can oxidize on the air exposed areas (turns grey in color).
Note: **Always add the tomato last as if you decide to mash the mixture some more you won't mash the tomatoes into pulp and juice.
Great served along side recipe#286463 !