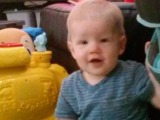 This is a very tasty sauce I've used over chicken breasts and egg noodles.
Directions
Put egg yolks, lemon juice, salt and cayenne in blender jar.
Heat butter in small pan until bubbly.
Do not burn.
Cover blender and whirl at high speed for 2 or 3 seconds.
Remove center section of cover or entire cover and at high speed pour in hot butter in a thin, steady stream.
It will take about 30 seconds.
Pour over baked chicken breasts or egg noodles as a side dish.
Most Helpful
Wonderful! Hollandaise is definitely a splurge these days in terms of time and calories, but this recipe makes it all worth while...thanks for posting!

I was in a hurry and this sauce seemed pretty easy so I thought I'd give it a shot. WOW! It was so easy to make and absolutely delicious! I served it as a dipping sauce for steamed artichokes. This recipe makes enough sauce for 3-4 large artichokes. I will definetly use this recipe again.
This velvety sauce has all the same ingredients as classic hollandaise, but with a faster, easier, foolproof preparation method - why make it any other way? I used salted butter so omitted the 1/4 tsp. salt from the recipe with good results.