Hollandaise Brussels Sprouts With Onions
2Bleu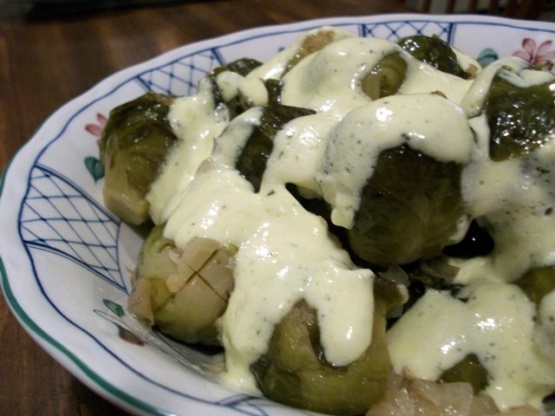 Healthy and delicious. We've added an optional hollandaise sauce that really makes this dish creamy and dreamy.... YUM!

These were yummy. I nice tangy flavor for sprouts, but I had to use more butter for them once I mashed them on my plate.
Combine oil and onion in a large saucepan. Sauté until onions are translucent.
Add Brussels sprouts, butter and water. Cover and simmer for 25 minutes or till sprouts are tender, stirring occasionally.
Meanwhile, make the HOLLANDAISE SAUCE: In a blender or food processor, put the egg yolks and water. Blend this together and then slowly start pouring in the warm butter with the blender running to incorporate. Add the onion, lemon juice, dry mustard, thyme, salt, and pepper. Thin with a little water if it's too thick. Strain and keep warm.
To the sprouts, add lemon juice, salt and pepper. Toss to coat. Place in a serving bowl and drizzle hollandaise over top.