Holiday Yellow Squash Casserole
Prep 30 mins
Cook 30 mins
My Aunt Isabelle would make a triple recipe of this for our family's holiday meals. There was never any left for a leftover snack. This is my favorite recipe to share!
Directions
Place squash, onion, and carrots in lightly-salted water.
Bring to boil.
Reduce heat.
Cook until tender.
Drain in colander.
Mash the cooked vegetables with potato masher.
In small bowl, combine butter and stuffing.
Line 8" x 12" casserole with 1/2 cup of the uncooked stuffing.
In a large mixing bowl, add 1 cup uncooked buttered stuffing and all of the sour cream, soup, and pimentos to the cooked squash, carrot and onion mixture.
Stir and mix well.
Spread this mixture over the stuffing mix that's lining the bottom of the casserole dish.
Cover with remaining buttered stuffing mix.
Bake at 350 degrees until toasty brown and bubbly.
Most Helpful
This is the very squash casserole (no pimientos) that my mom always made and we now have at every holiday meal. We have often in the summer when squash is plentiful too. This is the only way my husband and grandaughter will eat squash. To be honest, I have never found anyone that didn't like this casserole..and I've served it to a LOT of people! Thanks for posting the recipe. Printed it out to put in my granddaughter's cookbook.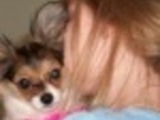 This is yummy! I used Pepperidge farm cornbread dressing and added 1 egg to the mashed vegetables. I lined the casserole with 2 cups of stuffing and there was plenty for the top. It was a hit with my whole family.
Today was Thanksgiving for my boyfriend's family and this was one of the dishes I prepared. I did make some slight changes. Since my boyfriend is a vegetarian, I used cream of celery soup instead of the chicken. I chopped the veggies very small so after cooking I didn't mash them as instructed and just mixed them in with the stuffing mixture after draining off the water. The dish was delicious and everyone enjoyed it. Thank you so much for posting.