lazyme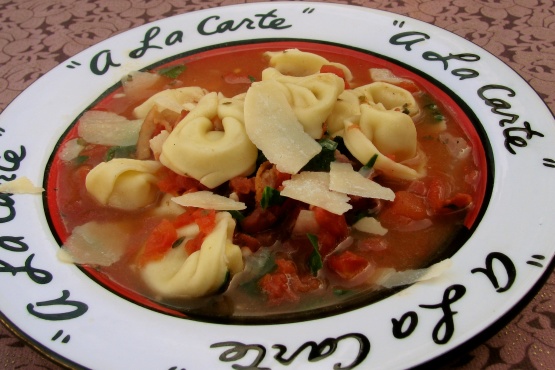 This is a hearty and flavorful soup. It can be made ahead and freezes well. Recipe is from Taste of Home.
Heat the olive oil in a Dutch oven over medium heat.
Add pancetta.
Cook until crisp.
Add onion; cook 3-4 minutes or until soft.
Add garlic; cook 1 more minute.
Add broth and Italian seasoning; bring to a boil and simmer for 5 minutes.
Meanwhile, cook tortellini according to package directions; drain.
Add cooked tortellini to soup mixture.
Stir in tomatoes and simmer 5 minutes.
Add spinach and cook just until wilted.
Season with salt and pepper.
Garnish with cheese.