jehnakai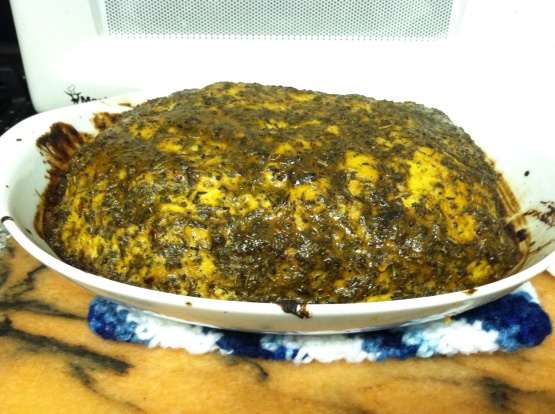 My friends tell me to make this every holiday as the vegan main course. It looks really pretty and tastes great. You can adjust the oil/ Juice ratio to suit your fancy, just be sure you baste it throughout the cooking process.

I am not a vegetarian and I normally hate tofu, but I had vegetarians coming for Thanksgiving and wanted to respect them so I made this. I didn't have vegetable granules or sage or savory so I substituted by cooking down vegetable broth and used Terrific Turkey Blend by Debra Dawson(which has savory and sage in it) in equivalent amounts. I also added 1 tablespoon of fenugreek seed powder to the recipe. It was fantastic! I ate 2 servings Thanksgiving day and two more when I took the leftovers to my vegetarian friend's house party. Everyone there was impressed and it went fast! I'll add pictures. Thank you to beet_lust for sharing! I will definitely make this again.
Drain off excess water from tofu. In a food processor or with a potato masher, crumble tofu avoiding any large lumps. Add the vegetable bullion along with 1 tsp each of the sage, rosemary and savory and 1 tbsp of the maple syrup, mix well.
Line a medium sized colander with cheese cloth, fill with tofu mixture. Cover the tofu mixture with a plate topped with a five lb weight (generally a few good sized tomato cans will do the trick). Leave tofu to press for at least three hours in the fridge.
In the mean time, prepare your stuffing.
Preheat Oven to 375 degrees.
Combine remaining ingredients (except for the stuffing) in a bowl, whisk together and set aside. After three hours remove the plate and weight from the tofu. Using a spoon, hollow out the tofu leaving a one inch shell. Fill shell with stuffing (Don't Overfill! The stuffing should only be inside the shell, not spilling over onto the sides) and cover with the extracted tofu. Pack the tofu layer down, then turn colander right-side up onto a deep baking sheet.
Cover tofu loaf with half of the sauce mixture, being sure to spread the mustard grains evenly over the surface. Bake until golden brown (about 1 hour 15 min), basting with remaining mixture after the first 45 minutes.