Holiday Thumbprint Cookies
Bobbiann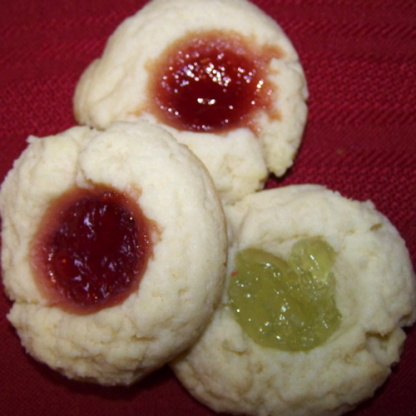 I obtained this recipe from my mother so I'm not really sure where it originated. It has been a holiday tradition to make these cookies each year.

I found this recipe while searching for a recipe that used mint jelly and we love it! These cookies are easy to make and taste yummy. I used a cookie scoop instead of making balls and I got the same number of cookies. Also, I used crabapple jelly instead of raspberry jam. I think any red jam or jelly would work fine.
Cream butter and sugar.
Add egg and vanilla, beat until smooth.
In separate bowl, combine flour, cornstarch and baking powder. Mix well.
Stir in flour mixture with butter, sugar and egg. Mix well.
Roll dough in to 1 inch balls. Place on ungreased cookie sheet. Use the end of a wooden spoon or use your thumb to press an indention in the middle of the dough. Add a small amount of jam or jelly.
Bake at 375 for 8 - 10 minutes.