Holiday Sweet Potato, Peach and Cashew Bake/Casserole
Bayhill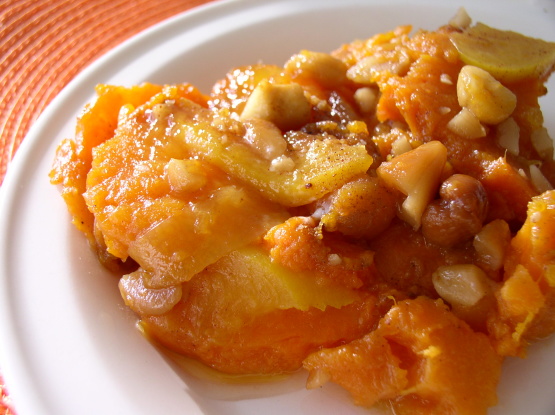 A favorite at our Thanksgiving table every year. Add marshmallows if you like. Versatile recipe- - you can vary the spices and type of nut used. One of my family's favorite variations is cinnamon or allspice in place of the ginger, with a splash of brandy, finely minced orange zest, a few tablespoons peach preserves, and a sprinkling of Sweet & Spicy Pecans, Sweet and Spicy Candied Pecans - With a Kick. Adapted from Better Homes and Gardens All-Time Favorite Recipes.
Delicious!! This is a great change of pace from the sweet potato casserole that I usually make. We loved how the peaches and sweet potatoes complimented each other. I added 1/2 tsp. cinnamon to the brown sugar mixture. Also, I used 1/4 cup peach preserves which I spooned around the peaches. Next time, I think I will add a little less butter as there was a layer of butter floating on the top of the casserole. This reheats nicely too, however the peach flavor is definitely more pronouned the next day. My family really loved this and gave it 2 thumbs up. Thank you for sharing this wonderful recipe...it is definitely a keeper!!
Combine brown sugar, cashews, salt, and ginger.
In 10x6x2-inch baking dish layer half the sweet potatoes, half the peach slices, and half the brown sugar mixture. Repeat layers.
Dot with butter or margarine.
Bake, covered, at 350 degrees for 30 minutes.
Uncover and bake mixture about 10 minutes longer. Spoon brown sugar syrup over before serving.
Makes 6 to 8 servings.