Holiday Spritz Cookies ( Anna Olson's Spritz Cookies)
Dotty2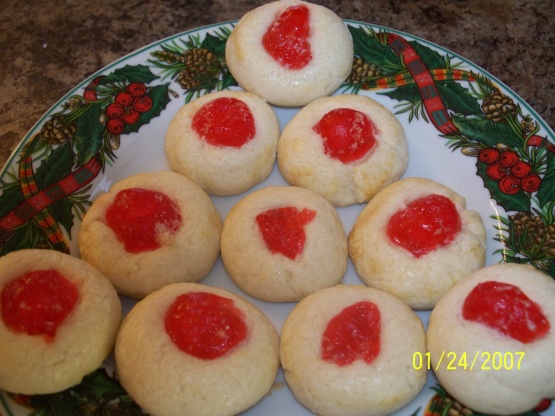 Buttery cookies that have been Christmas favorites as far back as the 1500s. While there are many similar recipes this is the one I turn to each holiday time since finding Canada's own Anna Olson's recipe in an issue of Harrowsmith. My handwritten copy is well worn from years of use. Anna's recipe and instructions make spritz cookies very simple to reproduce at home - for those of us not able to pick them up at her Ontario bakeries. I may have to move! Thank you Anna for adding to our Christmas 'traditions in the making'.
Top Review by Dotty2
Yum!!!, This recipe has already been placed in my favorites file. This is one delicious little treat that needs to be on the Christmas dainty tray. Who would have known that five little ingredients could taste so good. Gerry, I can see why this would be one of your favorites. I did roll the dough into balls and placed a cherry on top, also brushing the egg white over top with a sprinkle of a variety of sugars. Thanks Gerry for a new favorite.
1

cup butter (room temperature)
1⁄2 cup sugar (granulated)

1

large egg (separated, yolk for dough, reserve whites and beat for brushing tops)

1

teaspoon almond extract
2 1⁄2 cups sifted flour (start with 2 1/4 cups, may need up to 2 1/2 cups of flour)
sugar, for sprinkling (I use the white granulated, you may use tinted sugar)
Preheat oven to 350.
Using an electric beater beat butter and sugar - I beat until nice and fluffy.
Add egg yolk and almond extract; beat well.
Add 2 1/4 cups of the sifted sifted flour over the butter mixture with wooden spoon or mixer on low.( a wooden spoon works best for me) thoroughly incorporate the flour and form dough into a ball.
NOTE: if dough is too sticky add 2 - 4 tablespoons flour - chill dough before moulding ( I cover bowl and chill in the fridge for 1/2 an hour) a chilled baking pan makes forming cookies much easier.
If using cookie press, press on sheet, wait a few seconds, then twist the press slightly as you lift it straight up.
NOTE: if dough is too stiff to press out beat another egg yolk into the dough - (moulding by hand you may need to use all of the 2 1/2 cups flour - flour hands lightly makes moulding by hand easier).
If you don't have a cookie press form into 1/2 inch balls - push a cherry into the centre.
Brush cookies with beaten egg white and sprinkle with sugar; bake at 350 for 8 - 12 minutes or until golden around the edges.
Cool on a wire rack.Yield will vary as to size of cookies.