Holiday Rum Eggnog Bundt Cake
I am posting some neat holiday recipes for using eggnog. Since eggnog is a once a year treat, it can be fun to use it in recipes. Enjoy! 8)
1 (18 ounce) box yellow cake mix (2 layer size)
1⁄2 cup sliced almonds
1⁄2 teaspoon ground nutmeg
2 tablespoons rum or 1 tablespoon rum extract
2 eggs
1 1⁄2 cups eggnog
1⁄4 cup melted margarine
Directions
Preheat oven to 350°.
Grease bundt pan well.
Press almonds onto bottom of pan.
Mix other ingredients well, for five minutes.
Pour into pan.
Bake at 50-60 minutes, or until a toothpick inserted in cake comes out clean.
Let cool for 10 minutes and then invert onto a plate.
Most Helpful
This was a hit with friends at a Christmas gathering this weekend!Made according to directions and results were superb. Was easy to make and the almonds made for a beautiful cake. I will keep this recipe to make for potlucks during the holidays!
This was an excellent way to use up holiday eggnog. It makes a pretty presentation with the almonds on top, and tastes just like a glass of eggnog. Thanks for sharing this seasonal treat!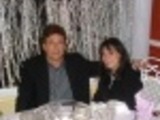 Used leftover eggnog in this cake - it was delicious. Didn't have rum or rum extract on hand, so substituted Southern Comfort, doubling the amount called for (due to a previous comment). It came out excellent; makes a very rich cake, but not heavy. Used 1/2 of Eggnog glaze recipe # 84417 which was also very good.