Holiday Merry-Mint Milkshake (By Bird)
CoffeeB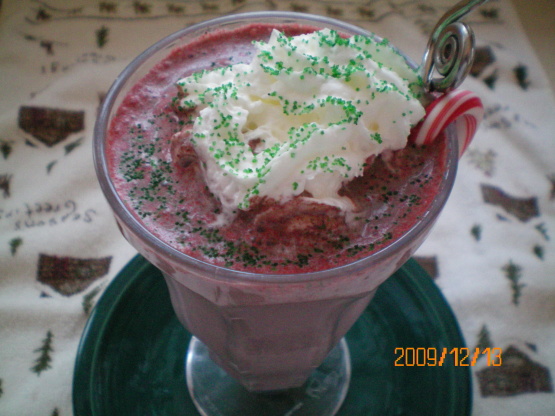 The perfect milkshake for the holidays. The candy cane ornament served in the glass truly compliments the green-colored sugar, chocolate sprinkles, and red cherry over the whipped cream for a dazzling effect. I had visions of lovebirds while I created this treat which is a combination chocolate chip mint/Cookies-n-cream milkshake (but for a title, was way too long, lol). Feel free to use low-fat/fat-free ingredients as this is definitely not dieter friendly (although it's great to enjoy before you begin your resolutions in the coming year). Amounts are adjustable to your liking.

Made this for my other half since he likes mint (& I don't), but the Baileys was omitted, & I made half a recipe! It was much enjoyed, even though non-alcoholic, & I've been asked to keep the recipe around, so . . . Thanks for sharing it! [Tagged & made in Please Review My Recipe]
Shake

6

peppermint candies (or 2 candy canes broken up)
1⁄2 cup 2% low-fat milk (1/4 cup additional if not using liquor)

2

large scoop vanilla ice cream

2

tablespoons chocolate chips

4

Oreo cookies, broken into pieces
1⁄4 cup Baileys Irish Cream (optional)

Toppings

2

tablespoons whipped cream
1⁄2 teaspoon sugar (green colored)
1⁄2 teaspoon chocolate sprinkles

1

candy cane
Place all shake ingredients in a blender in the order listed. Blend until it's as smooth as you like it.
Pour into a large parfait glass. Top with whipped cream, sprinkle with chocolate sprinkles, green colored sugar, then place the cherry on top.
Insert a long-handled (parfait) spoon, two straws, and a candy cane.
Serve cuddled by the fireside listening to your favorite Christmas carols and watching your holiday tree glisten. Just like two turtle doves. Enjoy!