KateL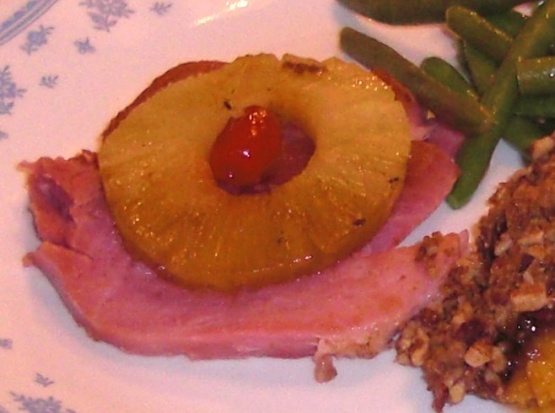 I just couldn't resist posting this one. If your a fan of sweet glazed ham this is certainly special enough for Christmas dinner, and it's even easy to do! It's from Martha Stewart.

Top Review by KateL
Wonderful, tasty, moist ham, tastes just like you want to remember, but please remember not to eat the whole cloves. The Manischevitz Sweet Concord Grape wine was a surprise ingredient, but it accentuated the ham taste. Our Christmas gathering concluded that the 30 ounces of liquid ensured a moist ham and helped to desalt the ham as well. The recipe says it serves 10-12, but four 60-year-old-plus adults did not leave much as leftovers (ok, so we were all pigs, this was so good!). Thanks for posting this recipe, Annacia! Made for Photo Tag.
Heat oven to 325ºF.
Using a sharp knife, score surface of ham crosswise and lengthwise, forming a crosshatch pattern about 1/4-in deep and 1-in apart.
Place 1 clove in the center of each square. Place ham, fat side up, in a double-layer disposable aluminum roasting pan and pat the brown sugar onto the surface of the ham (Expect some sugar to fall into the roasting pan)
Transfer to oven, and bake until brown sugar just begins to melt, about 30 minutes.
Pour Coca-Cola over ham, mixing with melted sugar in bottom of roasting pan. Baste ham with sugar/Coke mixture.
Return to oven, and bake for 20 minutes more.
Meanwhile, combine 1 cup reserved pineapple juice and wine in a small bowl. Baste ham with pineapple mixture.
Bake ham for a total of 16 minutes per pound, basting every 20 minutes. During the last 20 minutes of baking time, decorate ham with pineapple rings (use 2-3 toothpicks to hold each ring in place).
Center a cherry in the center of each ring, and attach it with a toothpick.
Transfer ham to a platter, removing all toothpicks. Garnish ham with fresh bay leaves if desired.
Makes 10-12 servings.