Calee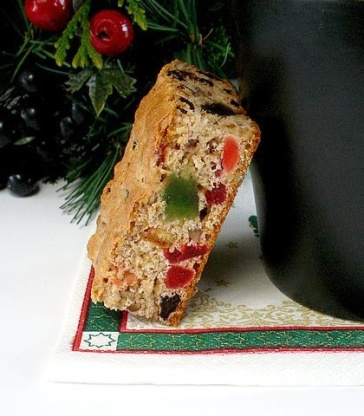 No time to make a fruitcake for the holidays? This quick bar cookie will satisfy your cravings. This recipe combines the best of several recipes I've tried over the years.

These fruitcake bars were very good. My husband who is an avid fruitcake lover, enjoyed the taste, but felt the bar only tasted mildly like a fruitcake. I did not put the icing on the bar. I will still make the traditional fruitcake, but I am glad I found this recipe for an easy quick way to have something close to a fruitcake if even only mildly. Thanks for sharing.
Beat eggs with a mixer until they are golden yellow and doubled in volume – 2 or 3 minutes.
Add in 1 cup sifted powdered sugar and vanilla.
Mix together flour, baking powder and salt.
Take 2 tablespoons of flour mixture and stir in with candied fruit, nuts and currants, to keep fruit from clumping in the batter.
Add the rest of the flour mix to the eggs and sugar.
Fold fruit and nuts into batter.
Spoon batter into a well greased 11" by 7" pan.
Some years I use parchment paper instead.
Bake at 350 degrees for 30 minutes.
Mix together rum and second cup of powdered sugar to make a glaze.
Spread the icing onto the bars about 5 minutes after they've come out of the oven.
Let bars cool and cut into bars.