Holiday Fruit Drops (Cookies)
BecR2400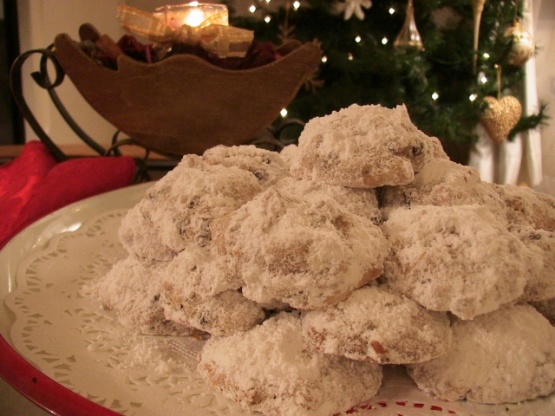 These cookies truly say 'Christmas' to me, and they are a family favorite at holiday time! The dried currants, cinnamon, lemon, walnuts, butter, and dusting of powdered sugar make an absolutely delicious tasting cookie. They freeze well too. Recipe is from my dear father, who was a spectacular baker. From my family to yours...I hope you enjoy!
Combine flour, baking powder, salt and cinnamon.
Cut butter into dry ingredients until crumbly.
Beat eggs; add sugar and beat well.
Stir into dry ingredients.
Add lemon peel, nuts and currants; mix well. Optional Tip: To soften the currants, add them to @ 2 tablespoons lemon juice and a tablespoon of brandy- - bring to a boil (I use the microwave) and remove from heat, cover and let steep for 15 to 30 minutes, then drain and add to recipe.
Drop by teaspoonfuls onto lightly buttered cookie sheets.
Bake in preheated 350 degree oven 12 to 15 minutes.
Remove to wire racks to cool.
Sprinkle with confectioner's sugar.
Makes 6 1/2 dozen.