Holiday Eggnog Rice Pudding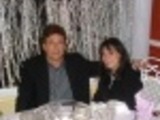 This is a pretty simple dessert that really conveys the flavors of the holiday season. Prep time noted does not include 2-3 hours of chilling time, so plan accordingly.
Directions
Place 2 cups eggnog in a heavy saucepan. Combine cornstarch and remaining eggnog until smooth; add to pan. Bring to a boil, stirring constantly; boil 1-2 minutes. Remove from heat; stir in rice, cherries, vanilla, and salt. Spoon in individual serving dishes. Chill 2-3 hours, if desired, sprinkle with nutmeg and serve.
Reviews
Most Helpful
This was good, but missing something -- not sure what it was though... Perhaps a bit more vanilla? Wonder how this would be with some of the flavored eggnogs I have see this year... Will play around in the future with this, but it was pretty good.