Holiday "Egg Thing" Breakfast
Bergy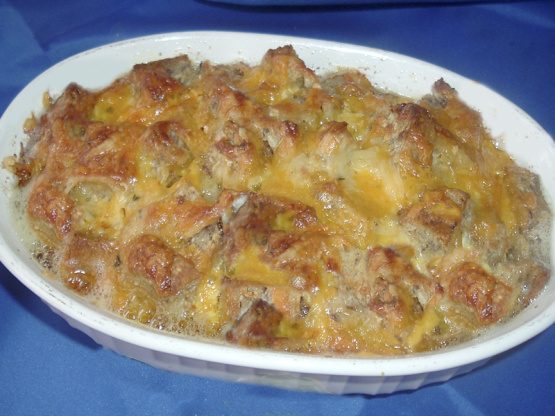 My mother used to make this delicious breakfast every Christmas morning (we called it "Egg Thing" as kids), but it would also be appropriate for Easter or other occasions. You can add your own touches to make it your own, but here is the basic recipe:

This was easy to make and although I found it to be quite tasty, I wasn't too crazy about the texture. I also question the butter on the bread, as the cheese has a high fat content. I'll make it again, but next time I'll try adding hash browns for more of a one dish meal.
Butter all the slices of bread on one side and cube them (1 inch squares are fine, but the size is not important).
Butter a large shallow baking dish.
Put about half the bread cubes in the dish (evenly distributed in the pan).
Sprinkle the cubes with half of the cheeses.
Repeat both layers.
Combine remaining ingredients and pour over the bread and cheese mixture (may look very liquidy, but it's okay; the bread will soak up the moisture).
Refrigerate 8-24 hours before baking (I like this b/c you can make the recipe the night before and just throw it in the oven for breakfast the next day).
Bake at 350 for 1 hour and 15 min or until brown (check often: this can be a tricky recipe, and oven temperatures can vary a lot).
You could add a lot of different things like sausage, ham, bacon, diced bell peppers, and onions, so if you'd like to add anything just throw it in with the cream mixture.
Best served with bacon or ham and coffee.