Mulligan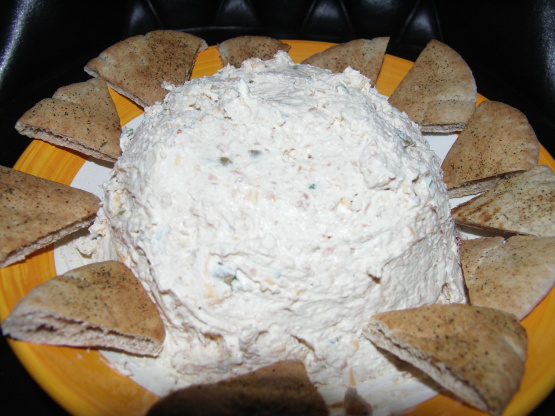 This is an excellent cheese spread to make for the holidays. Here in Miami as in Cuba, (BC) - before Castro, it is made as "bocaditos de jamon" and they are used for any & all celebrations. They serve it with a special roll or bun - that is on the sweet side - and they are also for canapes. It needs to chill 4 hours before serving, I didn't post the time needed to chill.

I have made this dip for get togethers in the past using fresh garlic in place of garlic powder and let me tell you it is delicious! Must chill for about 4 or more hours before serving. Thanks for sharing DiSharf!...Kitten:)
Spread:.
In a large bowl, mix the cream cheese, deviled ham, Colby cheese, green olives and Dijon mustard.
Season with dry mustard, chives, ground celery seeds, cayenne pepper and garlic powder.
Cover and refrigerate for 4 hours before serving.
Pita triangles:.
Spray with vegetable oil spray on both sides.
Season with 4-6 teaspoons of original Mrs Dash seasoning, more if needed.
Toast in toaster-oven or broil in oven for about 1-2 minutes until golden, more if needed.
Cut into triangles and separate.
Place spread on plate and serve with pita triangles and cocktail breads.
Enjoy!