Pamela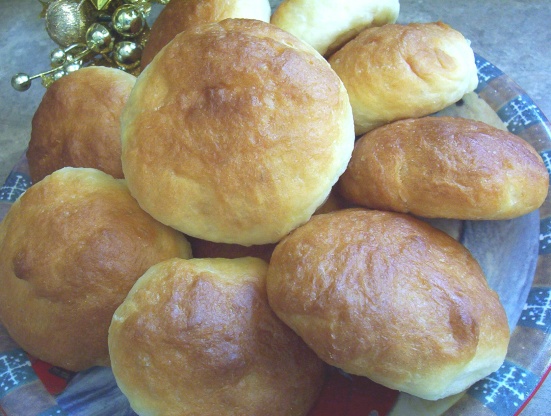 This is one of those old family recipes a friend a wonderful baker of bread, buns and rolls shared with me good many years ago. Over the years it has been the one I make for holiday meals and special occasions ... not surprisingly they began to be called the 'Holiday Buns' My most requested recipe when family gathers. Shapes beautifully to make crusty buns, fluffy dinner rolls as well as lovely braided breads which I often sprinkle with sesame seeds. Recipe easily halved and very freezer friendly.

I am hopeful for this recipe. I have made it twice so far. Since I am learning I cann't rate recipe as any fault is not theres but mine. It did turn out better this time than last time. Hopefuly I can learn as bread making is an art I want to acquire and everyone has given this recipe top ratings.I also used butter instead of margarine as Things are so much better with butter. I think for me I would have to half recipe next time as dough is too heavy for me to knead as much as I should. This time it made 5 dozen rolls.
In bowl: dissolve sugar in lukewarm water, add yeast and let stand for 10 minutes.
In Large Bowl: measure out 12 cups flour and set aside.
In Large Bowl: add milk, melted margarine and sugar, mix to dissolve.
Add beaten eggs,vinegar, salt, lukewarm water, the sour cream(optional) and stir in the yeast mixture.
Add 6 cups of flour and mix smooth, then add flour 1 cup at a time, until no longer sticky.(flour is approximate, for most part I use 12 cups of flour - on occasion I need more or a touch less. Flour being variable it may take more than the 12 cups of flour - add enough to give you a nice smooth elastic dough).
Knead on floured board until dough is smooth and elastic, place in well greased bowl turning to grease top.
Cover and let rise until double in bulk (about 1 hour) then knead down grease top lightly with margarine and again rise until double in bulk.
Knead down, let dough rest ten minutes and shape into buns (many old recipes suggest the size of a large egg).
Place buns on a well greased large cookie sheet (I put 3 in a row and not touching) lightly grease tops with margarine, cover.
After rising 15 minutes press down lightly on top of each bun with the palm of the hand.( if wishing to make dinner roll shaped buns skip this step) Rise until double. Bake in a preheated 350 degree oven for 20 - 25 minutes until lightly browned -- brush with melted butter and bake a couple minutes more until nicely browned. Brush with melted butter when baked and cool on rack. The extra brushing with butter makes for a very nice top. Baking time depends on the oven and yield on the size of the buns.