Hold the Beef Burger Cupcakes
Kiwiwife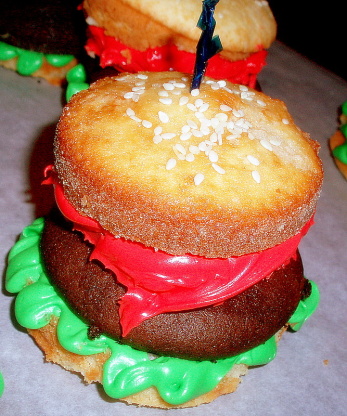 These are too cute! Adapted from Hey there Cupcake cookbook! My mom & I made 35 for daughters birthday! Fun!

Those are really cute. I make hamburger cookies: vanilla wafers for the bun, thin mints for the burger. Use green coconut for the lettuce; red frosting for ketchup; yellow frosting for mustard. Stick the sesame seeds on the top "bun" by using a 10x sugar/water glaze. (start with the glaze, then add more sugar, and yellow food coloring for the mustard---then red for the ketchup----If you do it in this order you only have to make one bowl of 10x mixture.) I don't have the technology to send a picture.<br/>You can also make mini 'sliders' by using jr. mints and mini vanilla wafers. This is fun for the kids to make----
24

vanilla cupcakes

12

chocolate cupcakes

2

(16 ounce) cans white frosting
green food coloring
red food coloring
simple syrup
To assemble:.
Cut tops off all cupcakes (buns).
Cut thin ring from vanilla bottoms (tomato).
Turn half vanilla cupcakes inverted on tray and pipe on green frosting around edge for lettuce.
Top with chocolate top.
Place red frosted thin ring for tomatoes on chocolate one.
Top off with vanilla "bun".
Brush with simple syrup and sprinkle with sesame seeds.
Place frilled toothpick through burger!