Jostlori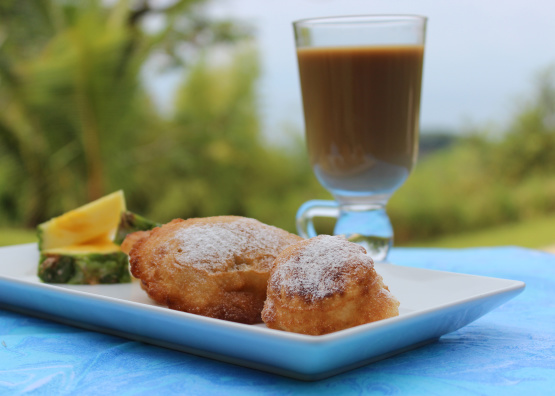 Traditional Panamanian breakfast cuisine!! Hojaldre is basically the Panamanian equivalent of fried dough. It is really delicious with anything from a fried egg to cheese slices on top. However, my personal favourite is to eat it plain. Because, the dough needs to sit overnight, this makes an excellent Saturday or Sunday breakfast treat. Enjoy! NOTE: The prep/cooking time does not take into account that you need to leave the dough overnight!!

This recipe was a bit tough to rate because I really did like the Hojaldre, and will definitely make it again. I don't know if it was the recipe or how I made it, but the dough was runny and sticky and would not pull into shape, so I had to glop it into the hot oil. The next time, I'll stop adding water just as soon as the dough takes shape. Because I couldn't stretch the dough, the finished product looked more like fat little fritters, and were quite good! As an experiement, I slit one open and stuffed in some Chiverre, which is a Costa Rican candied fruit that is available around Easter time. Now that was yummy! Thanks for posting this recipe, it is definitely one I want to try again until I get it right!!! Made for Spring PAC 2013.
In a large bowl, mix the flour, salt, baking powder, and sugar.
Make a well in the middle and add the oil and a little water.
Knead, adding the rest of the water little by little.
Let the dough sit overnight in the refrigerator.
When you are ready to make the hojaldres, heat a pan with the oil for frying over medium-high heat.
To form the hojaldres, take a golf ball size of dough and stretch it by hand until it is roughly 6 inches in diameter. Drop the stretched dough into the hot oil and fry until it is golden brown, turning once. The dough will puff up and parts of the hojaldre will be crispy and parts will be bready.
ENJOY!